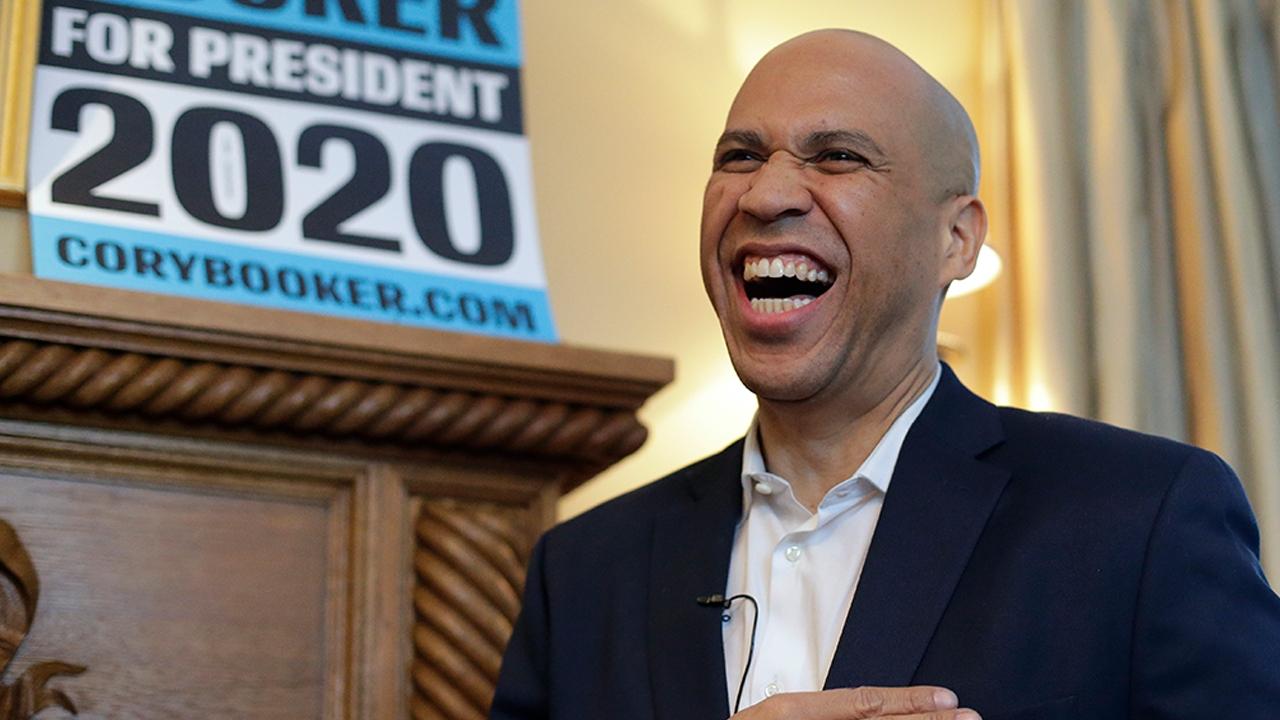 Sen. Cory Booker's not soaring in the polls, and he doesn't appear to have the buzz that Beto O'Rourke and Pete Buttigieg have enjoyed the past six weeks.
But that's just fine with the Democratic senator's presidential campaign, aides say.
5 THINGS YOU MAY NOT KNOW ABOUT SEN. CORY BOOKER
"We're not building this campaign to win a poll in April of 2019. We're trying to win the election in February of 2020, in March of 2020, in April of 2020. This is a long race where there's going to be a lot of ups and downs," Booker campaign manager Addisu Demissie told Fox News.
Demissie explained that the campaign's philosophy is "you've got to organize and get hot at the end."
He highlighted that the New Jersey senator and his team are "laser-focused on building strong teams in the states that are going the set the narrative around the primary starting in February of next year."
Booker's campaign manager detailed his strategy with political reporters on Thursday, ahead of Saturday's 'hometown kickoff' by Booker in Newark. Booker served as mayor of New Jersey's largest city for seven years before winning election to the Senate in 2013.
WATCH THE BERNIE SANDERS TOWN HALL ON FOX NEWS CHANNEL ON MONDAY AT 6:30 PM ET.
The campaign's putting most of its firepower in Iowa, New Hampshire, Nevada, and South Carolina, the four states that next February will kick off the presidential primary and caucus calendar.
"We've built our operation with the intention of having the strongest operation in the states on the front end of the primary calendar," he said.
Demissie touted that the strategy's paying off, noting that "we've earned the first legislative endorsements in Iowa and South Carolina and the first state senator to endorse in New Hampshire."
And he spotlighted that "no campaign, I think, can boast the level of staff infrastructure and local support that we have."
But that staffing up is expensive. And presidential campaign history is littered with candidates who grew their infrastructures too fast and spent too much, only to drop out — in some cases — even before the voting began.
Booker declared his candidacy at the beginning of February and quickly spent much of his time stumping in the first four states to vote on the road to the White House.
Demissie noted that Booker held 60 events and stops in the early voting states to show "the voters of Iowa, New Hampshire, Nevada and South Carolina that we were going to campaign in the best traditions of those states and planting that flag on the ground early and often."
The concentration on visiting and staffing up in the early voting states may be one reason why Booker's fundraising figures – $5 million in the first quarter of this year – were respectable but far behind the campaign cash leaders – Sens. Bernie Sanders ($18 million) and Kamala Harris ($12 million).
And while candidates like O'Rourke and Buttigieg are grabbing media attention, Demissie said he wasn't concerned his candidate's yet to have a breakout moment.
"We want to win an election, not a news cycle," he emphasized.
Source: Fox News Politics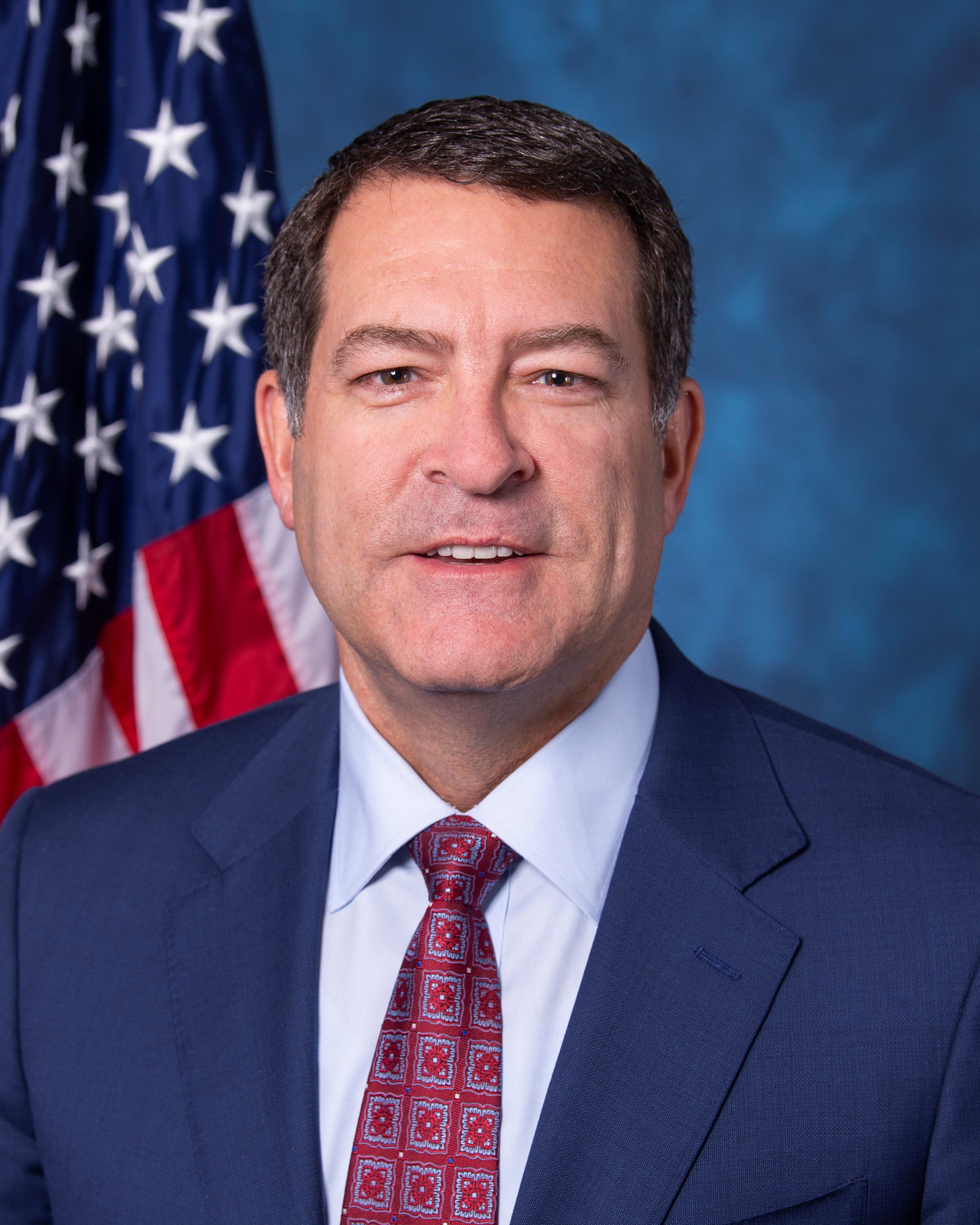 Tennessee Republican Rep. Mark Green said a bipartisan immigration deal would be "a huge win," adding he thinks "it's time."
"I think everybody knows it's a crisis so we have to do something about the border. We have to do something about immigration and if we can put it all together that would be a huge win," Green, who serves on the House Committee on Homeland Security, said on "America's Newsroom" Friday.
"I think the Democrats haven't had a win in this cycle. The president is leading. He's made changes on taxes, regulations. He called it a crisis when it was a crisis, when it began. Now [Obama's Former Homeland Security Secretary] Jeh Johnson is out saying it's a crisis, so the Democrats are wanting perhaps to do something and Leader McConnell knows what's going on in the Senate, he's got a read on that so he's going to take advantage of it and I think it's time."
REP. FLEISCHMANN CALLS BORDER SCENE 'CRISIS WITH A CAPITAL C'
On Thursday, the Senate's top Republican and the House's top Democrat each said that they're open to tackling the thorny topic of immigration this year.
Senate Majority Leader Mitch McConnell called for bipartisan talks aimed at strengthening asylum laws and addressing border security, issuing a bid for negotiations amid a surge of migrants overwhelming the southern border and President Donald Trump's continued calls to clamp down on immigration.
"What we need to do is sit down in a serious, adult, bipartisan basis and try to fix the problem, because the problem is pretty obvious," McConnell, R-Ky., said Thursday. "Border security is a part of it, but that doesn't solve the asylum issue, and that can't be solved, I don't think, without some kind of statutory adjustment."
McConnell's comments came just hours after House Speaker Nancy Pelosi, D-Calif., said she was looking to tackle the issue.
"It's complicated, but it isn't hard to do if you have good intentions," said Pelosi Thursday.
She added, "I'm not giving up on the president on this… I'm always optimistic and this has to happen. It's inevitable."
ERIC TRUMP PRAISES BARR TESTIMONY, SAYING SPYING 'DID OCCUR': 'YOU FINALLY HAVE A GROWN UP IN THE ROOM'
"That's clearly a softening for Speaker Pelosi and maybe that's an olive branch. I certainly hope that we can interpret it as that," said Green in response to Pelosi's statements. "Again, Leader McConnell came across and said, 'Hey there's something we can do, we can get something done here on immigration. That certainly should create hope for all of us."
Green added: "Hopefully we can get an agreement on this and it's sort of like playing poker right now. Nobody's showing their cards. It's not time. But at some point we're all going to get in here, we're going to negotiate, we're going to find some common ground and hopefully get something done on immigration."
CLICK HERE TO GET THE FOX NEWS APP
When asked if Green would be willing to work with Pelosi on immigration he responded: "I think we've got to fix immigration. Clearly there are things that we're not going to give up on. They've got things they're not going to give up on. If we can find that sort of middle ground on some issues we can get some of this fixed and I certainly am willing to talk about that."
The Associated Press contributed to this report.
Source: Fox News Politics
Former Obama White House counsel Greg Craig's indictment this week represented a stunning fall for the high-powered Washington lawyer — who aside from his work in the Obama administration represented everyone from Bill Clinton to Ronald Reagan's would-be assassin John Hinckley, Jr.
Now, he's on the other side of the attorney-client coin, defending himself against an indictment alleging he made false statements and concealed information in a federal foreign lobbying investigation spun off from Special Counsel Robert Mueller's Russia probe. Craig, the first prominent Democrat to be named in the probe, is accused of concealing material facts from the Justice Department about work he performed for the Ukrainian government.
"I did not participate in a scheme to mislead the government or conceal material facts," Craig, 74, said this week, denying the charges as his lawyers called the case "a misguided abuse of prosecutorial discretion."
GREG CRAIG, EX-OBAMA WHITE HOUSE COUNSEL, INDICTED FOR ALLEGED FALSE STATEMENTS
In private practice, Craig's list of clients included former North Carolina Sen. John Edwards and James Cartwright, the former vice chairman of the Joint Chiefs of Staff, who was charged in a leak investigation.
Craig also made headlines in 2008 as one of Obama's biggest backers. The endorsement came as a surprise to then-Democratic presidential primary candidate Hillary Clinton and her husband, both of whom knew Craig while attending Yale Law School in the early 1970s. The attorney was also tapped as special counsel to then-President Clinton during his 1998 impeachment proceedings, convincing the Senate during a trial that Clinton's offenses weren't cause to unseat him.
"To Greg. We struck the right pose—and you struck the right chords! Thanks — Bill Clinton, 2/99," the former president wrote on a photo of the pair — along with the rest of the legal team — that he gifted to Craig after his acquittal, according to The New Yorker.
In November 2008, Obama announced Craig would be his White House counsel, a move that drew scrutiny given other elements of the lawyer's history.
In the early 1980s, Craig sparked outrage for helping win then-25-year-old Hinckley, who shot former President Reagan and three others outside of a Washington, D.C., hotel, a not guilty verdict for reason of insanity, landing him in a psychiatric facility instead of a maximum-security prison. In 2016, the notorious gunman was released from the hospital to live with his elderly mother in Virginia, telling mental health professionals he's "happy as a clam" with his new life.
LAWYERS FOR GREG CRAIG, EX-OBAMA WHITE HOUSE COUNSEL, SAY THEY EXPECT HIM TO BE CHARGED WITH FOREIGN VIOLATIONS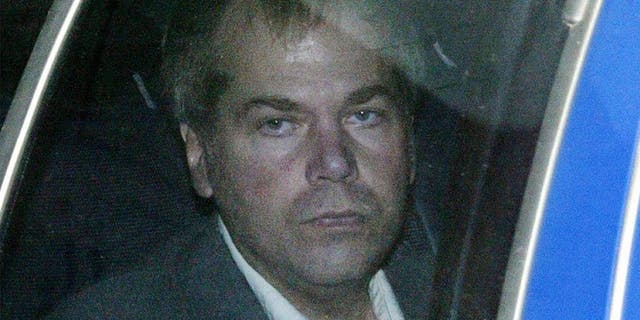 Craig also became a pariah in the Cuban-American community in 2000 after helping Cuban Juan Miguel Gonzáles gain custody of his 6-year-old son Elián after his mother and others drowned in a boat trying to reach Florida. Elián had been living in the Little Havana neighborhood in Miami with his uncle at the time, but the court forced the boy to leave his extended family and return to Cuba after Craig's victory.
Despite his controversial background, Obama defended his decision and touted Craig's various roles in the federal government including serving as Sen. Edward Kennedy's senior adviser on defense, foreign policy and national security issues and as senior adviser to Secretary of State Madeleine Albright. Before the election, Craig volunteered to portray the late Sen. John McCain in mock debates with Obama — a role he was easily able to emulate, as his father William was a Republican who lost Vermont's gubernatorial race in 1976.
But his time in the Obama administration was short-lived. He resigned after one year on the job following criticism over his handling of Obama's plan to close Guantanamo Bay in Cuba.
CLICK HERE TO DOWNLOAD THE FOX NEWS APP
Craig's work drew the Justice Department's attention in 2012, when Craig and his law firm Skadden, Arps, Slate, Meagher & Flom LLP were hired by the Ukrainian government to write a report on the prosecution of Yulia Tymoshenko, a former Ukrainian prime minister. Tymoshenko was a political opponent of then-Ukrainian President Viktor Yanukovych, a longtime patron of disgraced former Trump campaign chairman Paul Manafort who's slated to spend a total of 81 months in prison.
In 2013, the DOJ told Craig and his firm in a letter that he was required to register under the Foreign Agents Registration Act (FARA) while representing Yanukovych — but the lawyer allegedly refused.
In its settlement earlier this year, Skadden acknowledged it should have registered under FARA and also confirmed it received a $4.6 million payment for the report instead of the $12,000 the Ukrainian government previously claimed.
The Thursday indictment says Craig did not want to register under FARA because doing so could keep him or others at his law firm from getting government positions and because the filing would require him to disclose the millions paid from a "private, wealthy Ukrainian." To help hide the private funding, Craig is accused of backdating and falsifying invoices at Manafort's request to make it appear the Ukrainian government was the sole funder of the report.
Craig is being charged with two counts of making false and misleading statements to investigators — including Mueller's team, which uncovered his purported wrongdoings while investigating Manafort as part of the Russia probe — in connection with his work on behalf of Yanukovych.
"This indictment accuses Mr. Craig of misleading the FARA Unit of the Department of Justice in order to avoid registration. It is itself unfair and misleading. It ignores uncontroverted evidence to the contrary. Mr. Craig had no interest in misleading the FARA Unit because he had not done anything that required his registration," Craig's attorneys, William Taylor and William Murphy, said in response.
Fox News' Gregg Re and The Associated Press contributed to this report.
Source: Fox News Politics
---